Customer Reviews
Write a Review
Ask a Question
12/20/2021
love this lighter!
i purchased this for myself and my family members' stockings--it works really well, looks prettier sitting on my table than a normal long lighter, and i'm happier it is more sustainable!
Lindsey G.

United States
12/21/2021
The USB Lighter Company
Hello Lindsey, We are grateful that you took the time out to leave us a review. Your feedback helps us to improve service for everyone. -The USB Lighter Company Team
06/05/2021
Impressed
I like these lighters good and USB charged. I ordered 3 candle lighters, 1 wide lighter and 2 of the regular lighters. Love them all.
Kimberly R.

United States
06/07/2021
The USB Lighter Company
Hello Kimberly, Thanks for the awesome review, We work hard to meet expectations like yours, and we're happy to hear we hit the mark for you. Come back and see us soon. -The USB Lighter Company Team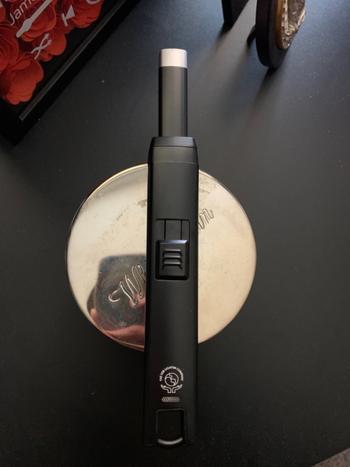 05/03/2021
Never going back!
When I saw this on my friend's IG story, I knew I needed this in my life. As a candle lover, I was so geeked to find something so cool AND eco-friendly like this. I don't see myself ever going back to butane lighters - and my goal is to get my fellow candle lovers to look into this alternative. Lastly, the lighting is purple!!! That was a huge plus.
Jacqueline G.

United States
05/03/2021
The USB Lighter Company
Hello Jacqueline, Thank you for the wonderful review and for taking the time to share your feedback with The USB Lighter Company. Thank you for sharing your kind words with us. It means the world to us and to our entire team! Our priority is customer service and we are ecstatic that we met that mark! Kind folks like you make our job a pleasure. We look forward to serving you again soon! -The USB Lighter Company Team
01/18/2022
Great stove lighter!
After dealing with standard stove lighters always failing before the full ran out, I started shopping for an alternative. So far this has done a great job at both lighting the stove top and candles. It's also instant, so no more clicking the lighter a dozen times while trying to start cooking.
Michael W.

United States
01/18/2022
The USB Lighter Company
Hi Michael, We are grateful that you took the time out to leave us a review. Your feedback helps us to improve service for everyone. -The USB Lighter Company Team