Customer Reviews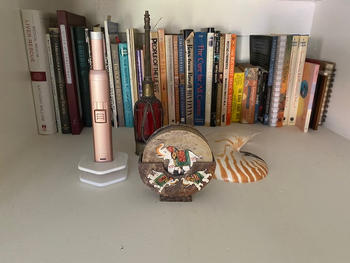 03/02/2021
Love this little dude!
I love my USB lighter and the little stand it comes with. Super convenient.
Jessica W.

United States
03/04/2021
I love this lighter and stand!
This lighter was the hit of of the Christmas season! I gave them to both of my daughters and kept one for myself. It is so easy to use. I was getting very irritated with the the lighters that I had been using. I ordered the stand as well. It holds the lighter perfectly and it looks good on the counter. I am not searching through a drawer to find the lighter. I am looking forward to recharging my lighter, but it will be awhile . The charge is supposed to last for a year. I highly reccomend this lighter and stand!
Lynn T.

United States
03/03/2021
Stand good lighter not good
The stand is fine but I have a white lighter that does not work at all
Donna S.

United States
03/02/2021
Perfect!
The stand holds the lighter very nicely, looks stylish, and helps me keep it in one place. It spends much of its time on the stand as it needs charging so rarely even with all the candles I light daily. I would definitely recommend anyone getting the lighter also get the stand!
Liesl A.

United States