Customer Reviews
Write a Review
Ask a Question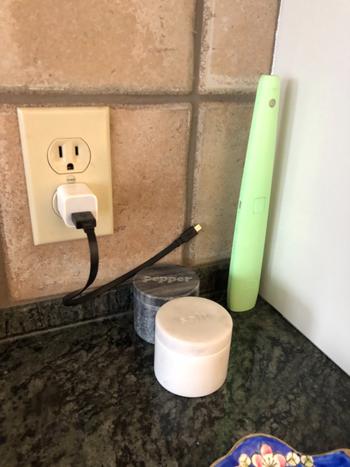 01/03/2021
Innovative lighter
These lighters are amazing. I bought a dozen because they are new and unique. They make great gifts along with keeping 2 for myself. My biggest problem with one of them is that the switches don't work as they should so I'm struggling to get the flash light to work and when device is on so that I might try to light something. The push switch does not activate the lighter to ignite. By playing with it and juggling to get it to work has helped. Don't know what country produced this device but a more sturdy design may be needed next.
Steven L.

United States
05/08/2021
Best gift ever
I purchased this for my roommate for her birthday and she is obsessed with it. Beautiful and functional.
Nikolaya Z.
United States
05/06/2021
Love it!
I love the Motli lighter! Taking it out of the box, it has a soft feel to it which was surprising. It didn't come with any instructions but was easy to learn how to use. You hold the power button on the side to turn it on. To get the lighter portion to start, you slide the button up. It was easy to slide. My son is six and was able to do it no problem. He thinks this is so fun! It took a minute to figure out the flashlight portion. You have to hold the button on the back down for three seconds. My son found out the lighter portion can still be used with the flashlight on. It is a good flashlight, not extremely bright but useful. To turn it off, hold the button three seconds again. The reason it's 4 stars and not 5 for me is that the charger cord is only about a foot long and when I plugged it in I could barely place it on the table. I'm sure I have another cord that is longer somewhere and would work so it's not a huge deal but a little frustrating. If this does last over 1000 uses like it says I won't be charging it too often anyway. I'm hoping to find information on the website about how to recycle it at the end of it's life. Overall, super excited this eco friendly option is out there and will be getting a few in the future for stocking stuffers!
Ashley F.

United States
05/06/2021
The USB Lighter Company
Hello Ashley, We are grateful that you took the time out to leave us a review. Your feedback helps us to improve service for everyone. -The USB Lighter Company Team
04/02/2021
Not better than others
Love the color and soft touch to this lighter which why I bought it. The on and off switch is cumbersome. I can't say it worth the premium to their other lighters that they sell for half the price.
A L.

United States
04/22/2021
The USB Lighter Company
Hello, We're sorry to hear of your less than satisfactory experience and hope you will accept our sincerest apologies. We are committed to providing great customer service and we would like to make things right. Please send us an email to determine how we can provide you with a solution. We value our customers' opinions and would like to thank you for bringing this to our attention. -The USB Lighter Company Team